TVB Fairchild Fans Party 2014
9-4-2014
The three handsome idols Lawrence Ng, Edwin Siu, and Fred Cheng brought buzz amongst fans in the city in anticipation for the Fans Party 2014. The three talented artistes heated up the stage last night, bringing fans a beautiful evening of entertainment. The MC's for the evening, Mary Lo, Delon Lew, and Mandy Chan first welcomed Super 10 contestants, Teresa Liang, Claudia Jen, Tony Cui, and Lucky Luo onstage for the opening act. The group sang hit songs from dramas that the three artistes have acted in, setting an exciting mood for the rest of the show.
The first special guest to emerge onstage was local Vancouverite Fred Cheng who performed three songs from his first single, including, 'Nobody', 'Place', and 'Panda'. Fred was especially emotional when he sang his song, 'Nobody', as the lyrics reflect his ups and downs in his musical journey. Fans were especially in for a treat as Fred's performance of 'Place' was his first time performing the song live. As a proud Canadian, Fred didn't shy away from his love for ice hockey, confronting difficult hockey quiz questions at ease.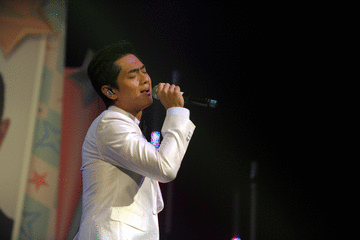 Sunny and bright Edwin Siu revealed that he is an avid soccer fan, and showed off his soccer skills alongside a team of junior soccer players. Edwin brought joy amongst the audience when he performed the song 'True Feelings', and heated up the atmosphere even further when he sang the theme songs of his dramas Daddy Good Deeds, and Brother's Keeper, proving himself as a charismatic idol.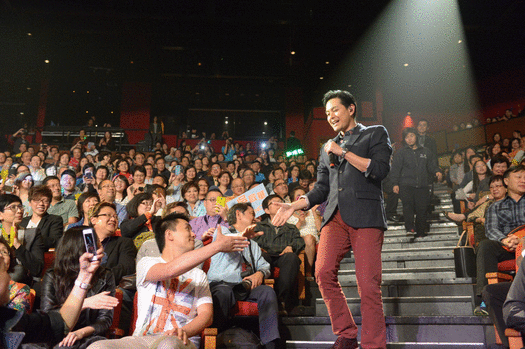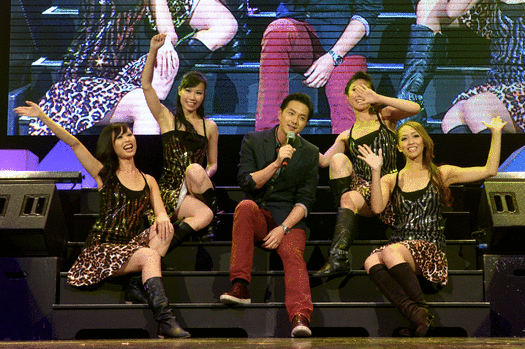 Last to perform was Lawrence Ng who magically appeared onstage, causing the entire audience to erupt in cheers and applause. Lawrence and guest magician conjured up a wondrous illuminated magic, leaving the audience in awe. With both stage presence and charisma, Lawrence sang 'Love of My Life', 'Origins of Love', and 'I Love You', melting all of the female fan's hearts.
The three handsome artistes brought further surprises to the evening by walking into the audience and interacting with fans, stirring up the crowd and heating up the atmosphere. The three then invited lucky audience members on stage to play games and win TVB souvenirs as prizes. What a perfect ending to an unforgettable evening!
Fans who were unable to attend Fans Party 2014, please don't fret! Fans Party 2014 will be airing on Fairchild TV on Saturday September 13th at 8:00pm – 9:25 pm and Fairchild TV HD 2 on Sunday September 21st at 8:10pm – 10:00pm.
Fans Party 2014 Press Conference
9-3-2014
Charismatic Lawrence Ng, sunny and bright Edwin Siu, and talented Fred Cheng are ready to heat up the Fans Party stage! The three handsome artistes have finally arrived in Vancouver and hundreds of fans had lined up since the early morning in anticipation for the press conference, hoping to occupy a good spot to see their beloved idols. After landing, Lawrence and Edwin hurried to Aberdeen Centre to meet up with Fred, who has returned to Vancouver earlier this week. Upon entering the press conference, the three popular idols immediately triggered a heated round of cheers and applause from the excited fans. They first shared their recent endeavors with press conference MC Mary, and then each proceeded to autograph the giant backdrop behind them.
Lawrence Ng has always been popular amongst drama fans. This year, Lawrence is celebrating his 30th year since debut. Today, he still shines brightly on stage, attracting love from millions of fans. Having once studied in England, Lawrence holds a gentlemanly aura with a bit of English humor. When MC Mary asked him about his impression on Vancouver, Lawrence expressed that Vancouver is a beautiful city; therefore, the fans that live in the city are especially beautiful as well. After acting in the hit drama, Never Dance Alone, Lawrence will next be playing a charismatic correctional officer in the upcoming drama The Battle Of Tomorrow.
Recently exploding with popularity, Edwin Siu arrived at the press conference with healthy bronzed skin, his bright and sunny image matched perfectly with Vancouver. Edwin had acted in numerous dramas. His versatility allows him to excel in a vast variety of roles in either ancient or modern dramas, be it a protagonist or antagonist, whether the character is charismatic, nerdy or unattractive. Edwin revealed that his favorite role so far was his character of Law Wai Shun in the popular TVB drama Brother's Keeper because the character's hard working attitude and determination to achieve his dreams reflects his own journey in the entertainment industry.
As for Fred Cheng, who was born and raised in Vancouver, both his family and friends were excited to extend a warm welcome home to the proud Vancouverite. Fred felt that the success that he has recently achieved is just the beginning. He shocked the world with his talent when appearing in the celebrity singing competition The Voice of the Stars. Recently, Fred has released his own single, Nobody, a song about his 10 year journey in music. The song became an instant hit, even winning an award in Jade Solid Gold. Fred indicated that he will continue to work hard on his music and upcoming role as MC in Jade Solid Gold. He also revealed that he will be holding his first solo concert in Hong Kong this coming November, hopefully earning cheers and support from his fans.
To thank the fans for their support, the three artistes selected a few lucky fans from the audience to receive the last remaining tickets to the much-anticipated Fans Party 2014. Next, President of Fairchild Media Group, Joe Chan presented the three artistes with souvenirs as a memento of their visit and wished them a successful performance. Finally, three artistes held an autograph session providing fans with the precious opportunity to closely interact with their favorite idols, concluding the star-studded press conference with excitement.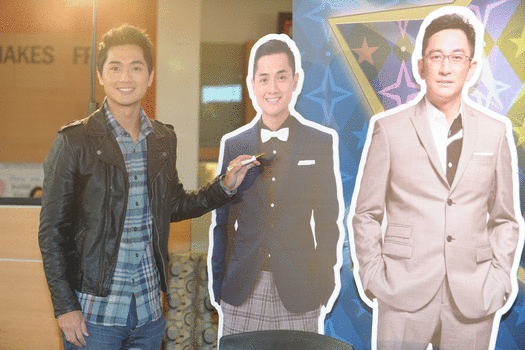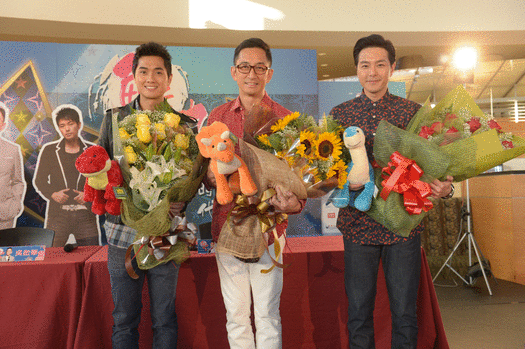 Vancouver